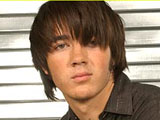 Newlyweds Kevin Jonas and Danielle Deleasa are reportedly planning to start a family.
The young couple, who tied the knot last month in New York, are now rumoured to want children together.
"Danielle is one of three siblings, and Kevin comes from a big family, too, with three younger brothers," an insider told National Enquirer. "Kevin is serious about becoming a dad ASAP. He's even picking out baby names!"
The source also claimed that Jonas told him: "I want to have a daughter named Madison Grace."
/Digital Spy/