The Tiger Woods sex saga continues.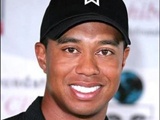 An unidentified individual is reportedly shopping a Tiger Woods sex tape to porn industry giant Vivid Entertainment.
According to TMZ.com, Vivid co-founder Steven Hirsch said that a woman approached him with a sex video of Woods that she claims was shot two years ago.
Hirsch said he has seen a 30-second clip of the video, but won't confirm Tiger's identity.
Woods' lawyers have already sent a letter threatening to go after anyone who publishes nude photos and videos of the 34-year-old golf star.
The purported sex tape is the latest example of the porn industry trying to take advantage of the Woods sex scandal, which has ballooned to include over a dozen women who claim to have had an extra-marital affair with the golfer.
Vivid previously offered $1 million to "any woman who has proof she was a paramour of Tiger Woods and will sign a contract with the studio."
Playgirl also claimed to have nude photos of Woods.
"We were approached by a third party who wanted to know our 'interest level,' Playgirl rep Daniel Nardicio said. "Our lawyers are currently going over them, the source, the entire package."
The magazine said that they plan on publishing the photos if and when they can confirm they're the real deal.
/NY Daily News/