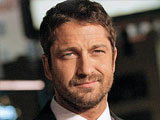 Gerard Butler has revealed that he wants to pig out on junk food.
According to E!, the 300 star complained that all his roles call for him to be shirtless.
"I wanna eat my potatoes and French fries and sponge cakes," he said.
Butler was photographed in Barbados over the holidays allegedly sporting a full beer belly.
/Digital Spy/