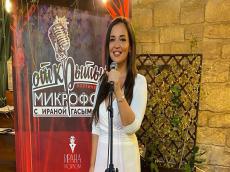 Baku has hosted another evening within the project "Open Poetry Microphone with Irana Gasimova".
At the evening, both famous poets and beginners, including Among the poets and readers were Saida Subkhi, Leyla Gurbanova, Natella Kerimova, Vera Velikanova, Leyli Salaeva, Elnur Hajiyev, Magsud Kazimov, Arzu Muradova, Svetlana Gui, Ilmira Odinaeva, Nazrin Jafarly, Zarema Manafova, Ekaterina Guselnikova and Renata Asyanova read their heart-touching poems, Azernews reports.
The summer evening was held in a warm creative atmosphere, among friends and like-minded people who are united by a love of poetry.
Note that Irana Gasimova gives poets the opportunity to express themselves through various projects, including "Classics of Poetry with Irana Gasimova", "Poetry Battle with Irana Gasimova".
The ceremony of awarding the poetess Saida Subkhi for the victory in the project "Poetry Battle with Irana Gasimova" on the theme "Nature" (landscape lyrics) was also held as part of the event. Well-known artist Nigar Narimanbayova handed the poetess her painting.