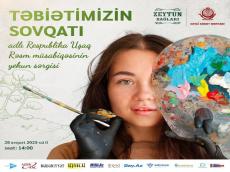 Khatai Arts Center will host the final exhibition within the Gift of Nature Children's Republican Drawings Competition on August 28.
The main purpose of the competition is to stimulate the creativity of children and youth, to educate them on the topics of ecology, Azernews reports.
The theme of the competition is "Which would I place a sign about nature protection!".
Around 700 people aged 10 to 17 years from different parts of the country have joined the project.
Over 800 art works have been applied to the competition. Nearly 152 paintings have been selected for the final exhibition, which is available on the following link.
Selected works must be submitted by August 25 to the Khatai Arts Center.
The project participants will be awarded with certificates, while 30 art works will be awarded with special prizes.