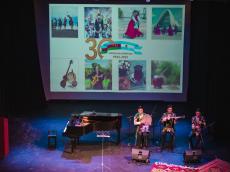 Magnificent concert has been held in Buenos Aires to mark the 100th anniversary of the National Leader Heydar Aliyev and the 30th anniversary of the diplomatic relations between Argentina and Azerbaijan.
The concert program was organized by the Azerbaijani Embassy in Argentina with the support of the Azerbaijan State Opera and Ballet Theater, Azernews reports.
At the opening of the festive evening, the Azerbaijani Ambassador to Argentina Ramzi Teymurov, emphasized the special role of the founder of modern independent Azerbaijan Heydar Aliyev in the formation of statehood, the national spirit as well as his wise policy and will in strengthening the foundations of independence, implementing a successful foreign policy and recognizing Azerbaijan as a reliable partner at the global level.
It was noted that Azerbaijan's successes in political, social, economic, cultural life and its recognition by the world community as a democratic and prosperous state are associated with the name of the Great Leader Heydar Aliyev, as well as the fact that President Ilham Aliyev continues this path of development.
The diplomat also spoke about the friendly ties between Azerbaijan and Argentina, as well as the opportunities for expanding these relations in the political, economic, cultural and other spheres.
Director of the Azerbaijan State Academic Opera and Ballet Theater, dramatic tenor, People's Artist of Azerbaijan Yusif Eyvazov and Honored Artist of Azerbaijan Sabina Asadova captivated the audience with works by Azerbaijani composers.
The performances of tar player Rashad Ibrahimov, kamancha player Tabriz Yusubov and mugham singer Mirali Sarizade were greeted with the storm of applause.