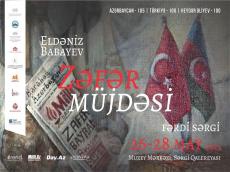 Eldaniz Babayev's solo exhibition "News of Victory" will take place at Baku Museum Center on May 26-28.
The exhibition is dedicated to the 105th anniversary of the Republic of Azerbaijan, the 100th anniversary of the Turkish Republic and the 100th anniversary of the National Leader Heydar Aliyev, Azernews reports.
The exhibition covers different periods of the artist's work and includes 17 paintings and graphic works - portraits, still lifes, landscapes, historical and genre paintings, which demonstrate Azerbaijan's victory in the 44-day Patriotic War, brotherly and friendly relations between Azerbaijan and Turkiye, as well as culture, traditions and customs of the Azerbaijani people.
The central place in the exhibition is occupied by graphic portraits of outstanding Azerbaijani and Turkish poets, cultural figures, whose work reflects the ideas of freedom and independence of the two fraternal peoples.
The guests will also be presented with a presentation of the book-catalog "Eldaniz Babayev. News of the Victory" (author Mirza Talybov), reflecting the life and work of the artist, as well as his social and educational activities.
The exhibition is held with the support of the Culture Ministry, Baku Main Department of Culture, Ataturk Center in Azerbaijan, Baku Museum Center, the Azerbaijan State Museum of Musical Culture, Azerbaijan Artists' Union, Baku Art Center, Khatai Art Center and Baku Art Gallery.
Note that Eldaniz Babayev was born in 1971 in the village of Boladi, Lankaran. He graduated from Azim Azimzade State Art School and the Faculty of Painting at Azerbaijan State University of Arts.
In 1989-1991 worked as an artist at the Azerbaijan State Museum of Musical Culture.
In 1998-2006, he acted as a director of the Gala Art Gallery of the Baku Main Department of Culture. Since 2006, he is a director of the Baku Art Gallery. Eldaniz Babayev is a laureate of national and international awards.
Media partners of the event are Azernews.Az,Trend.Az, Day.Az, Milli.Az.