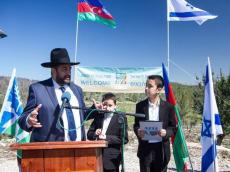 By Azernews
Laman Ismayilova
Azerbaijani and Israeli filmmakers have shot a film about the Mountain Jews.
The film tells about the history of the Mountain Jews in Azerbaijan's Oghuz district, Azernews reports.
The Azerbaijani and Jewish peoples have a long tradition of tolerance and interaction.
Located in the northwest of Azerbaijan, Oguz District has historically been one of the main places of settlement of Mountain Jews.
It has always been a unique community of Muslims and Jews living in harmony and friendship.
The protagonist of the film is Rabbi Shmuel Simantov, a native of Oguz District. In the film, Shmuel Simantov tells the world about Azerbaijani realities. The scriptwriter and director of the film is Rufat Asadov.
The cameramen are Mahir Atakishiyev, Roman Isakov, and the executive producer is Shaul Siman-Tov.
The shooting took place in different parts of Azerbaijan, Israel, the USA, and Germany.
This film is the fifth within the "Mountain Jews" series directed by Rufat Asadov.