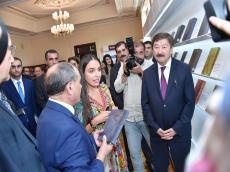 By Azernews
By Laman Ismayilova
An opening ceremony of the "Manuscripts by Nasimi in world libraries" book exhibition has been held at the Azerbaijan National Library.
Vice-President of the Heydar Aliyev Foundation Leyla Aliyeva attended the event.
In his speech, Azerbaijan's Minister of Culture Abulfas Garayev gave detailed information about the exhibition. He noted that the exhibition presents copies of manuscripts dedicated to the work of the great Azerbaijani poet Imadaddin Nasimi. These books, acquired at various leading libraries in the world, are included in the book collection of the National Library.
He stressed that the visit of Leyla Aliyeva to the country's largest library serves as an indicator of the attention paid by the Heydar Aliyev Foundation to the reading culture.
The Minister emphasized that the corresponding decree of President Ilham Aliyev marks the 650th anniversary of the Azerbaijan's immortal poet Imadaddin Nasimi. President Ilham Aliyev has also declared 2019 as a Year of Nasimi in the country.
In order to ensure the implementation of the Presidential Order on the celebration of the anniversary of the national poet, an action plan has been prepared by order of the Ministry of Culture.
Initiated by the Vice-President of the Heydar Aliyev Foundation Leyla Aliyeva, Nasimi Festival of Poetry, Art and Spirituality caused wide interest.
Director of the National Library Karim Tahirov presented a book about the library and a book of poems to Leyla Aliyeva.
The event participants then viewed the exhibition. The opening of international cooperation hall with the participation of Leyla Aliyeva was also held at the National Library.
Diplomatic representatives of 13 foreign countries and library heads attended the opening ceremony.
The event participants then familiarized themselves with the reading halls of the National Library.