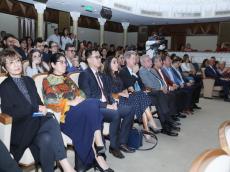 By Azernews
By Laman Ismayilova
The Argonauts international inclusive show jointly prepared by Candoco dance company and Lost Dog as well as "Face in" and "You and I Know" shows by Candoco Dance Company have been presented in Baku.
Vice-President of the Heydar Aliyev Foundation Leyla Aliyeva attended the presentation held at the State Academic National Drama Theater.
Organized by the British Council, these fascinating shows were held with the support of the Heydar Aliyev Foundation, the Azerbaijan Cultural Ministry and the British Embassy in Baku as part of the 2nd Nasimi Festival of Poetry, Arts and Spirituality.
Addressing the event, the UK Ambassador to Azerbaijan James Sharp informed the audience of the performances. He stressed that these performances were created over four years by professional actors and amateur actors with disabilities from Azerbaijan, the UK, Ukraine and Georgia.
"Through cultural resources of the United Kingdom, we encouraged inclusiveness in the field of art, in order to make the leading cultural and art objects of Azerbaijan more accessible for people with disabilities, we collaborated with them and contributed to changing the public's opinion about disability and creating a more inclusive society," he said .
The performances then were presented to the viewers.
The Argonauts international inclusive show featured 10 professional and amateur actors from various countries with and without disabilities. This professional performance was prepared during their stay in Kiev from June to September 2019.
The "Face in" show presented the audience with dazzling images embodied in a bold and free dance. Urban-Indian music was widely used in the work.
The work of the choreographer Arlene Phillips "You and I Know" is a romantic duet conveyed in the form of short episodes-series. This strong and exciting dance, performed to the sounds of pop music demonstrates how often we can fall in love with the same person.
Candoco Dance Company is the world's leading company of disabled and non-disabled dancers that create experiences for audiences and participants that excite, change and broaden perceptions of art and ability, and place people and collaboration at the heart.
Their programme includes workshops for schools and colleges following Candoco's inclusion on the GCSE specification, youth dance companies, teacher training, dialogues and debates. Candoco is a charitable organisation.