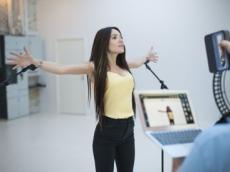 Dilara Kazimova, Azerbaijani entry for Eurovision 2014, has enjoyed a chance to combine her two passions in life: music and love for animals.
Just before the Eurovision in her native Azerbaijan Dilara has supported the production of merchandising line with her image for sale. The money collected from sales of branded goods will be given to Azerbaijani animal welfare organizations.
On May 2nd during the press conference in Copenhagen Dilara presented to journalists even more unique souvenir – a 100% copy of herself created with a 3D printer in colour.
Such an exclusive gift was given to Dilara by technology-friendly fans from 3D Hubs Copenhagen.
3D Hubs Copenhagen, the creators of the project, has agreed that Dilara can sell her 3D copy on eBay and funds collected from the deal will be sent to a Danish animal shelter Dyreværnets.
A full copy of Dilara is 20 cm high and looks exactly like her. This figure is the unique one-off a copy and will become a priceless trophy for a lucky Eurovision fan.
"A day in the animal shelter was very emotional to me. I wanted to take all animals home. But now I'm happy that with this auction I can contribute to the animal shelter," said Dilara.
Earlier on May 1st Dilara did a volunteer shift together with Hungarian entry András Kállay-Saunders at Copenhagen's animal shelter Dyreværnets.
Dilara is an activist for animal protection in Baku. She's got a beautiful sausage dog and a cat back in Baku. She doesn't wear fur and takes part in charity events aimed to raise awareness on animal rights in society.
Dilara Kazimova performs with song Start a Fire under #8th in the first Semi-Final of the Eurovision Song Contest on May 6th, 2014 in Copenhagen.