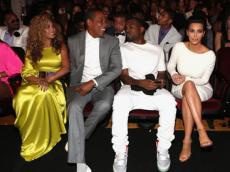 In today's batch of bizarre celebrity lawsuits, a prisoner in California is suing some of the biggest names in pop music for more than $2 billion.
As first reported by Re-Tox, an inmate named Richard Dupree filed a $2.4 billion lawsuit against Beyonce, Jay Z, Kanye West, Rihanna and Chris Brown, claiming the stars stole song lyrics he had been writing while incarcerated.
Dupree filed the lawsuit in California's Eastern District Court on April 21, and believes Beyonce and Jay Z worked with the CIA, FBI and Homeland Security, among other agencies, to spy on him and obtain his lyrics. He believes Chris Brown, Kanye West and Rihanna were co-conspirators in the crime and that the gang of pop stars stole 3,000 songs from him.
This should be fun for everyone involved.

/Huffingtonpost/