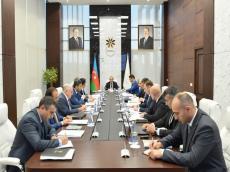 A regular meeting of the Supervisory Board of the Small and Medium Business Development Agency (KOBIA) under the Ministry of Economy was held, Azernews reports, citing KOBIA.
As the ministry reported, at the meeting chaired by the chairman of the Supervisory Board, Minister of Economy Mikail Jabbarov, information was presented on the activities of KOBIA in the first half of 2022 and 2023, as well as priority areas of development planned for 2024. Measures aimed at developing and supporting small and medium-sized businesses and other issues on the agenda were discussed.
KOBIA Board Chairman Orkhan Mammadov made a presentation on the activities of the agency for the relevant period and reported on the work done in the direction of development of small and medium-sized businesses, increasing their knowledge and skills, expanding access to financial resources and markets, as well as protecting the interests of KOB.
It was noted that during the reporting period, 22 KOB development centers held more than 1,000 trainings for almost 12,000 KOB subjects and persons willing to start their own business, provided consulting services to more than 2200 KOB subjects, and trained more than 500 business specialists. With the issuance of 51 "Startup" certificates, which provide tax incentives for innovation activities to micro and small entrepreneurs, the number of KOB subjects who received this document reached 105.
40 KOBs in the sphere of education, and science, AZN 747.000 were allocated for research and support of projects. At the request of entrepreneurs and on the initiative of COBIA 18 internal market researches were conducted.
Participation of 1133 SMEs in 23 exhibitions was supported. During the reporting period, 25 KOBs utilized the support mechanism for access to trade networks. With the opening of 20 KOB-friendly offices that provide on-site support and services to KOBs, the number of existing offices reached 45.
In 2023, the number of KOB houses increased to 3 with the commissioning of "Baku KOB House", which provides services to entrepreneurs in a single space by public and private institutions. From year to year, there is a positive dynamic of growth in the number of entrepreneurs using the services of KOB houses.
In 2022, KOB Houses will provide more than 73 thousand services to entrepreneurs. In the first half of 2023, more than 197 thousand services were provided. During the reporting period, 14 surveys were conducted with the participation of more than 3,300 SMEs.
Applications were received from 6 KOB subjects under the KOB cluster mechanism, which was implemented this year, and relevant work is being done in this direction.
At the meeting the opinions of the members of the Supervisory Board were heard, discussions were held and relevant decisions were made on the mentioned directions and other issues.
Within the framework of the meeting, Minister of Economy Mikail Jabbarov and members of the Supervisory Board familiarised themselves with the activities of "KOB Baku House" and met with the staff of KOBIA.