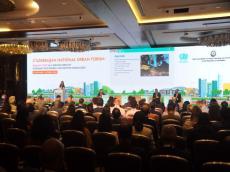 The 2nd Azerbaijan national urban forum themed "Resilient cities as a driving force of economic development and fighting inequalities" has wrapped up in Baku, Azernews reports.
The last day of the forum themed "Ensuring access to services for all" included panel sessions on "Inclusive Urban Development, Importance of urban mobility in driving sustainable urban development", "Healthy and thriving communities: enhancing quality of life in cities through public open spaces".
Recall that the first session on "Resilience and sustainable development: strategies, actions and international collaboration opportunities" featured discussions on rebuilding lives – rehabilitation strategies for the liberated areas, enhancing regional development for sustainable connectivity and economic revival of the region, role of international collaboration for post-conflict recovery.
The second session entitled "From desolation to resilience: the path to a better future" featured discussions on fighting the hidden threat - mine contamination and its impacts on sustainable development, as well as resurgence of regional centres, cooperation opportunities in Karabakh and Master plan of Zangilan city – the way forward.
Within the forum, the event participants also visited Aghali "smart village" and familiarized themselves with the speedy reconstruction projects being carried out in Zangilan.
On October 2, aku will host the World Habitat Day for the first time, which will bring together influential international experts and government officials.