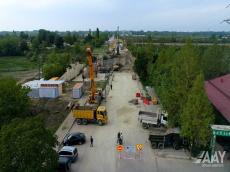 The demolition of the bridge located in Gudalchay village, at the 27th km from the State Border with the Russian Federation was completed and the construction of a new bridge was started, Azernews reports, citing the State Agency of Azerbaijan Automobile Roads (AAYDA).
It should be noted that the bridge was washed away by the flood on September 15, and immediately after the incident, employees of AAYDA were involved in the territory and additional security measures were taken.
The leadership of the agency and employees of relevant bodies conducted investigations and decided to build a new motorway bridge in its place. In this regard, special equipment was brought to the site and work began.
AAYDA warns drivers to use the alternative road that leads to Kymylkyshlakh village through the Khachmaz district. Additional security measures have been taken in connection with the traffic on the mentioned road. Information signs have been installed at the entrance to the alternative road from the side of Khachmaz and Khudat.