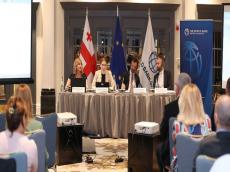 The World Bank on Tuesday said Georgia had advanced "ambitious" second-generation reforms aimed at boosting private sector development and enhancing financial inclusion thanks to the institution's €4 million Georgia Financial Inclusion and Accountability project, Azernews reports, citing Agenda.
Implemented between 2019 and 2023 with the support of the World Bank and the European Union, the project had supported an enabling framework for capital and insurance market development, improved financial infrastructure and responsible financial inclusion, and promoted better corporate and State-Owned Enterprise governance and reporting in Georgia, the World Bank said.
The project played an important role in improving financial inclusion for all and enhancing financial transparency of companies. It has also helped to build foundations for more competitive, transparent, and well-governed institutions and markets in Georgia", Miguel Sanchez, World Bank South Caucasus Program Leader for Equitable Growth, Finance, and Institutions, said.
Catalin Gherman, the Deputy Head of Cooperation of the EU Delegation to Georgia, said four years after the start of the implementation of the initiative there were "visible improvements" in Georgia's financial structures, business services and investment climate.
This EU assistance has boosted private sector development and delivered productivity, transparency and financial inclusion gains for Georgian businesses", Gherman said.
The World Bank said "significant improvements" had been made in the quality of financial reporting through rollout of International Financial Reporting Standards for SMEs training courses, resulting in 85 percent accuracy of reports submitted for medium enterprises and 91 percent for small enterprises.
Georgia's progress in the financial reporting reforms was acknowledged in the World Bank's 2022 Report on the Observance of Standards and Codes in Accounting and Auditing, which was also presented today.