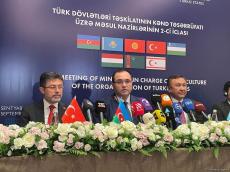 The city of Guba was elected as the Agricultural Capital of the Organization of Turkic States (OTS), Azernews reports.
The Azerbaijan Agriculture Minister Majnun Mammadov talked about it at the briefing held in connection with the 2nd meeting of the Ministers responsible for Agriculture of the Organization.
The city of Guba will remain the capital until the next meeting of the Agriculture Ministers of the Organization of Turkic States.
It should be noted that the next meeting will take place in Kazakhstan.
The OTS is an intergovernmental organization and comprising Turkic countries Azerbaijan, Kazakhstan, Kyrgyzstan, Turkiye and Uzbekistan. It was created on October 3, 2009 in Nakhchivan. Previously it was called Turkic Council or the Cooperation Council of Turkic Speaking States.