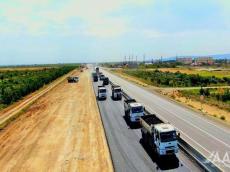 Reconstruction of the deformed 5-kilometer section of the M-1 Baku-Guba-Russian border road in the direction of Baku-Guba has been completed, Azernews reports, citing AAYDA.
It is worth noting that the road is a part of the North-South transport corridor and plays an important role in freight and passenger traffic.
AAYDA said that Deputy Chairman of Agency Avaz Gojayev and other officials attended the commissioning ceremony of the reconstructed section of the road.
Repair and reconstruction works were carried out in 3 sections at km 52-119.5 of the road. The reconstruction covered road sections 52-53.5, 100.25-102.75, and 107-108.25 km.
At these sections, the concrete pavement was dismantled and removed, unnecessary materials were excavated out, and quarry materials were transported and laid, the sub-layer of the road surface was laid, and new asphalt pavement was laid.
Taking into account the intensity of traffic flow in this direction, as well as the discomfort that repair and rehabilitation works may cause to the citizens traveling through the road, the works were carried out in parts.