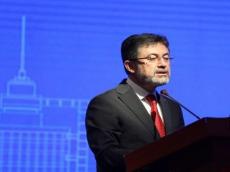 Turkic states have enormous economic power on a global scale, and agriculture is one of the main sources of this power, Azernews reports, citing Azerbaijan's Agriculture Ministry Majnun Mammadov telling at the Second Agribusiness Forum of Turkic States held in Baku.
"Natural resources, biodiversity, geographical location, and climate increase our agricultural potential further. The Turkic Agribusiness Forum, which brought together businessmen and officials of the Turkic world, aims to further strengthen trade ties between our countries. Trade does not only mean the exchange of goods for a fee, but also means the exchange of cultures, national traditions, best practices, and technologies. We expect from you, businessmen, that by building cooperation based on these principles, you will further increase the economic power of the Turkic community and contribute to food security," the Minister said.
The minister added that the Cooperation Council of Turkic-speaking States, founded in 2009 in Nakhchivan, in accordance with the goals and objectives set by Azerbaijan and other member states to form a stronger format of cooperation, was renamed the Organization of Turkic States, which is one of the authoritative international organizations of the world.
"Health, migration, and agriculture are considered the areas of cooperation within the organization; new mechanisms of cooperation have been created in the field of economics, energy, media, justice and other humanitarian areas. As Azerbaijani President Ilham Aliyev noted, strengthening ties with member countries of the Organization of Turkic States in all areas is one of the main priorities of Azerbaijan's foreign policy," the Azerbaijani Minister said.
Another co-speaker of the Forum the Turkish Agriculture and Forestry Minister Ibrahim Yumakli noted that the trade turnover among the Turkic states totaled $33bn in 2022, of which $3.8bn falls to the share of agricultural products, but it is not enough.
Besides, the Minister said that last year the value of the total exports of the countries that are members of the Organization of Turkic States exceeded $537 billion.
"We have an important potential in the field of trade. This potential has expanded further with the entry of new members into the organization."
The Turkish Minister proposed to establish a common halal infrastructure among the member countries of the Organization of Turkic States.
"It will be beneficial to establish joint cooperation with the standards of Islamic countries to eliminate technical barriers in trade. There is a serious potential in agriculture between our countries that needs to be discovered. I believe in developing cooperation, especially in seed production, aquatic products, agricultural techniques, and similar fields. It is very important to promote our companies in order to increase the trade between our countries," he said.