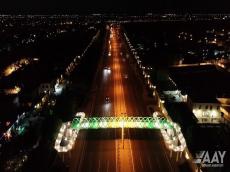 In accordance with the instructions and tasks given by President Ilham Aliyev, comprehensive measures are being implemented by the State Road Agency of Azerbaijan to ensure comfortable and safe crossing of motorways for citizens, Azernews reports, citing AAYDA.
In order to ensure the safety of citizens living in the city of Baku and on sections of motorways passing through the territory adjacent to the capital, pedestrian crossings are being built in several places as part of these measures.
Another project in this context has been implemented by the agency. Thus, the construction of the pedestrian crossing on the 8th km of the Mardakan-Zagulba motorway has been completed and handed over to the citizens in the section where pedestrians have problems crossing the motorway.
The length of the passage according to the project is 53.4 metres, internal width - 3.5 metres, width of stairs and ramps - 1.35 metres.
The crossing, located 5.5 metres above road level, is an open lattice metal structure.
The crossing, which consists of two entrances and exits, has oval-type pedestrian ramps in accordance with international standards, ensuring comfortable movement of people with disabilities.
The project also included new bus stops on both sides of the road, the construction of a bus shelter, a control room for workers monitoring the crossing, and landscaping work around the pedestrian crossing.
The crosswalk, built on the basis of modern technologies, complying with international standards and using high-quality materials, will provide pedestrians with a convenient and safe way of crossing the road, as well as give a special colour to the appearance of the city.
According to the action plan, pedestrian crossings will be built at other necessary sites in the following years.