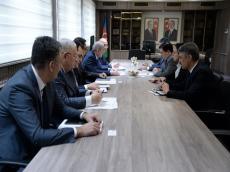 Chairman of the State Statistical Committee of Azerbaijan Tahir Budagov has met with Nuno Queiros, resident representative a.i. of the United Nations Development Program (UNDP) in Azerbaijan.
The pair emphasized the importance of creating the UNDP-funded National Information Portal on Sustainable Development Goals.
They stressed that the UNDP's current operations in Azerbaijan are based on the United Nations Sustainable Development Cooperation Framework 2021-2025 between the Government of Azerbaijan and the United Nations and targets long-term socio-economic development issues in accordance with the growing needs of the country.
In turn, Nuno Queiros hailed positive results achieved in all areas of cooperation between the State Statistical Committee and the UNDP. The two also exchanges views on other issues of mutual interest.