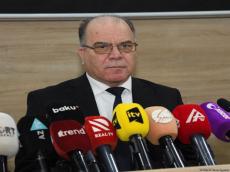 The names of foreign companies engaged in the illicit exploitation of natural resources in Soyudlu, Vejnali, Damirli, and Gizilbulag deposits during the Armenian occupation have been disclosed, Azernews reports.
Head of the National Geological Exploration Service of the Ecology and Natural Resources Ministry Ali Aliyev made the remarks at a media briefing.
In his view, the mentioned companies include Sterlite Gold LTD and First Dynasty Mines of Canada; Base Metals, Vallex Group of Switzerland; Russia's Geopro Mining Gold Company; Armenian Copper Program, which is a joint venture between entrepreneurs from Sweden and Liechtenstein; US Global Gold and India's Vedanta Resources.
Moreover, Aliyev highlighted that reserves of gold, silver, and copper deposits on Azerbaijan's liberated territories have been revealed.
Specifically, he stressed that there were 112.5 tons of mineral resources in the Soyudlu deposit, 6.5 tons of gold, 10.75 tons of silver, about 4,000 tons of copper at the Vezhnali deposit, 457,000 tons of copper at the Damirli deposit and 13.7 tons of gold at the Gizilbulag.
He added that although the specific volume of deposits currently illegally exploited by Armenians is unknown, the calculations are currently underway.
"The relevant state institutions have prepared an appeal to international organizations regarding the illegal exploitation of Azerbaijan's natural resources," Aliyev said.
Further, he underlined that the work on the assessment of mineral reserves in the Eastern Zangezur and Karabakh Economic Regions is nearing completion.
The minister noted that since these territories had been under occupation for almost 30 years, it was impossible to assess the resources and after the liberation, the primary activity was directed at assessing the mineral resources of the lands.
"The work is nearing completion. Our goal is to determine the extent of the damage inflicted on our country during the occupation. The reported losses will serve as a documentary basis for lawsuits for damages in the future," Aliyev said.
Additionally, Aliyev stressed that the data stored in Azerbaijan's Geological Information Fund has already been analyzed considering the demand for raw materials next year.
According to him, the data has also been sent to the relevant government agencies to coordinate the venue of deposits that are planned to be auctioned next year.
One of the main directions of the agency for 2023 is the involvement of mineral deposits located in the Karabakh and East Zangezur Economic Regions in the economic turnover, he added.
"According to the approved Action Plan on the Great Return to the Karabakh and East Zangazur Economic Regions, the agency will carry out work on the commissioning of mineral deposits and ensuring the protection of the subsoil," he said.
The official pointed out that at the initial stage, it is planned to issue permits for the use of common mineral deposits located in the Karabakh and East Zangezur Economic Regions for the implementation of reconstruction and restoration projects.