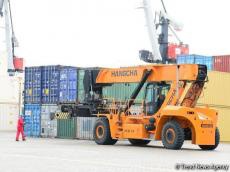 From January to November 2022, Azerbaijan's MKT Production Commercial LLC became the leading exporter of non-oil products among local private firms, Azernews reports, citing the Center for Analysis of Economic Reforms and Communication of Azerbaijan.
In the reported period, the company's exports totaled $105.1 million (a 7.48 percent decrease, or $8.5 million, from the first eleven months of 2021).
Total non-oil exports of 10 private enterprises reached $502.2 million during this time, up $158.6 million (46.16 percent) over the same period in 2021 ($228.9 million).
Ranking of Azerbaijan's private companies included in the TOP 10 non-oil exporters from January through November 2022:
| | | |
| --- | --- | --- |
| Enterprise | Export value from January through November 2022 | Export value from January through November 2021 |
| MKT Production Commercial LLC | $105.1 million | $113.6 million |
| Azerbaijan International Mining Company LLC | $91.7 million | $96.7 million |
| Rose Services LLC | $47.9 million | - |
| Almeyve LLC | $45.9 million | $16.6 million |
| 'Elvin Shirinov' (individual entrepreneur) | $41.5 million | - |
| Baku Steel Company LLC | $40.6 million | $43.5 million |
| Mors Trading LLC | $35.1 million | - |
| P-Agro LLC | $34.2 million | $36.2 million |
| Azerbaijan Sugar Production Union LLC | $30.8 million | $27.7 million |
| STP Aluminium LLC | $29.4 million | $9.3 million |