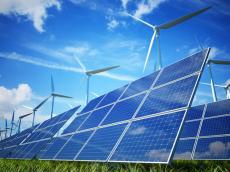 By Gulgiz Dadashova
Most economies' response to challenges they are facing – low oil prices, economic slowdown and currency depreciation – leaves the impression that many have no way-out rather than sit and wait for better days.
Fortunately, Azerbaijan has the means to address this economic problem, if it is able to summon local entrepreneurs and state support to non-oil sector.
Like most oil exporting states, this Caspian state was not shielded from the impact of low oil prices, but this could be a boom in diversifying the country's economy and reforming its public finances.
When the country is focused on the development of non-oil economy, the power generation remains the very field of industry prioritized by the state. Amid the forecast on increasing demand for energy, Azerbaijan is keen to boost its energy exports to regional states targeting mostly European consumers.
The country enjoys a strong power generation capacity, but renewable energy might become a plausible solution to increase the generation capacity.
Currently, Azerbaijan uses hydroelectric, wind and solar power plants, as well as biogas installations. The country only needs to increase renewable energy production from solar, wind, etc, which depends on many factors, including financing.
Azerbaijan is an attractive country for foreign investors due to its positive rating, a continuous supply of foreign currency from its energy resources, as well as for its infrastructure and export potential.
But the main point for investors to come and incest in the country is the commercial feasibility, i.e. the fact whether the invested money will generate income or be unprofitable.
The volatility in crude markets has underlined the need for assessing the risks of fossil fuel-based projects against the risks of renewable energy-based projects (raw material costs are essentially zero, but unpredictability of weather can pose a long-term risk).
Deputy Head of the State Agency on Alternative and Renewable Energy Sources Jamil Malikov believes profitability in the field of electricity and thermal energy can be ensured only through the tariffs, which will be profitable.
Today energy production in Azerbaijan is carried out mainly by state-owned enterprises. Fees, which are now formed in this area, need to be attractive for private capital to engage in production and sale of electricity, Malikov said.
"Everything must be done to ensure that alternative energy has developed rapidly. Because, on the one hand, this will solve environmental problems, on the other hand, it will allow to save hydrocarbon resources - oil, gas, etc," he told Day.Az.
Azerbaijan is a sunny country and enjoys 250-300 sunny days a year. So the development of solar technology, the use of solar energy for its conversion into heat and electricity is the priority in this area.
To this end, the state launched appropriate technological institutes, factories that produce the necessary number of solar panels and collectors.
Wind occupies the second for its generation capacity due to its territorial limitations. If the sun energy can be used throughout the country, the wind as a renewable energy source is available only near the Absheron peninsula and the Caspian Sea (mainly in the northern part).
The country currently is working on development of an offshore wind farm, taking into account the fact that the northern part of Azerbaijan's Caspian Sea is shallower and of little use for navigation.
"Having built overpass in the area, we could actually increase the capacity of wind turbines in the sea, and the generated electricity could be exported to Iran, Turkey, Russia, Georgia," Malikov said, noting that offshore wind can bring more profits than on land.
The third option for increasing the country's power generation volumes is, of course, hydropower.
Today, the main power generation capacities are involved in the Kura and Araz rivers. However, Malikov believes, there is still possibility of using small hydropower plants on mountain rivers.
"Construction of hydroelectric power is a costly project, since it is necessary to build them up in the mountains. It is necessary to create the appropriate conditions - construction of roads and communication lines, providing the station with the necessary equipment, transmission and distribution of electricity. This option is a kind of reserve and forward-looking," he said.
The agency also eyes development of bioenergy, mainly building of small biogas plants near the farms.
"First of all, we receive energy, and secondly we will resolve the issue of utilization of animal waste that disrupt the environment, spoil ground water and the atmosphere. Slush and biomass left after the process of manufacturing biogas are also a good fertilizer, which can be used in agriculture," he said.
As for the prospects for developing geothermal energy in the country, Malikov pointed to tremendous resources to use the heat of the earth.
"But this energy is more needed to produce heat rather than to produce electricity. We believe that it is better to use geothermal energy for heating residential buildings, greenhouses and hothouses," he added.
To date, the country's generating capacity is assessed at the level of 7,635 MW, of which the used capacity is about 5,000 MW. Of these, 1,255 MW accounts for hydroelectric, wind, solar and bio-energy plants, that is, their share is currently about 25 percent.
In 2015, Azerbaijan produced some 24.7 million kilowatt / hours of electricity, while the country's electricity consumption amounted to 19.7 million kilowatt / hours. The country exported some 260.6 million kilowatt / hours of electricity, while imported some 107.4 million kilowatt / hours in 2015.
The Energy Ministry plans to commission new facilities with a capacity of 2,800 MW by 2020.
Currently, the State Agency on Alternative and Renewable Energy Sources is engaged in the development of appropriate legislative and regulatory framework, tariff policy and drawing financial support from the budget and international development banks, such as KFW, EBRD and ADB.
In late 2015, Paris hosted a conference on climate change, which ended with signing of a historic deal. The agreement commits countries to try to keep global temperature rises "well below" 2C, the level that is likely to herald the worst effects of climate change, and requires developed countries to continue a goal of "mobilising" $100?billion finance for developing countries each year after 2020.
Now energy-rich Azerbaijan has a unique chance to draw cheap long-term loans and grants from international financial institutions to develop renewable energy in the country.