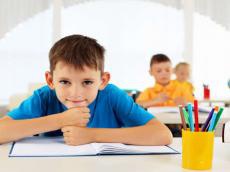 By Amina Nazarli
Modern parents are often baffled by the child's pre-school education, asking questions what age is good to start education? specifically at what age it's too early, or too late on the contrary?
Some specialists advice to ignore criteria on this matter and study the skills of a child. Most importantly, experts recommend that better if the child him/herself will have a desire to explore any particular area.
Psychologists say that during the first six years of life the child receives more information than in the subsequent years. During this period the child learns easily, remembers well many words, and can absorb a tremendous amount of knowledge.

Let's talk about what is the ideal age for parents to teach their children letters and numbers?
"Opinions diverge greatly on this issue," says psychologist Ayshan Musayeva. "I, for example, tend to teach children reading and writing starting 4-5 years old. But teaching a kid at earlier period, like 2-3 years, can load cognitive processes, thus depriving the emotional energy of a child."
Every parent is eager to see his/her child to be an intelligent and an educated, and in many cases overload the children with education activities. But are they really right in depriving their kids of their happy and careless childhood?
"The main teaching activities for kids should be realized during game playing. Otherwise, the child can "get tired" of the learning process," she said.
Very often parents try to overload their children with additional activities just because relying on 'bright brain' of their kids. But they forget how necessary is for a child to spend a carefree childhood.
Now the question is what is the optimum time to begin school. At what age point a child's brain is ready to begin soaking up the multiplication tables and rhymes?
"Many parents think if their child can read and write, then it's time to send him or her to school. But reading and writing abilities do not always show the child's readiness for school life," she said, advising to send a child to school at the age of 7 years for good adaptation and performance.

What if a child is less interested in education? In this case, Musayeva recommends to understand the reasons causing the difficulties and to try to solve the problem together.
The history of mankind very frequently showed that talent of many famous personalities was revealed in a later age.
Albert Einstein, for example, was an inhibited and retarded child, even hard speaking. His teachers were in despair, and parents feared for their son's mental abilities.

That's why no need to worry that the child cannot cope with the lessons, just try to check it he or she has other abilities, in painting or sports.
Primary school teacher Kamala Aliyeva, in turn, thinks that children under 6 only require love, affection and parental attention, "that is what they need to experience and learn at that young age; not alphabet, numbers and beyond."
Parental attention, care and love go a long way in building the foundation of a solid individual, she stressed.
"Pre-schools need to be restructured to become just play areas for children, under age of 6 years, and their parents to come together, interact and participate in collective play and fun activities," Aliyeva noted.
The formal education age for Azerbaijani children is six years old. For those, who is not ready enough to sit behind the desk, schools organize special pre-school training, which train children for school life.

Teacher Arzu Aliyeva emphasizes the importance to expose children to education before school, as their brains are stimulated and give an impact on their academic performance later.
She believes that today's educational system puts even greater demands on the schoolchildren and their parents.
"Current education requires a mandatory pre-school preparation. A child should have logical mind and have any idea about training in order to keep up with the current method of education," she explains. "Without preparation, a child cannot adapt to the school atmosphere, and cannot concentrate on lessons.
The present school beginning procedures suggests examining a child under six years old at a special commission for premature reception.

Some psychologists think that testing children at such a young age to determine their individual abilities is highly questionable, since they are getting very nervous during the test.
Experts recommend to get sure in a strong immune system of child before sending him/her at the age of six. It is not so easy first graders to cope with the most difficult tasks as is sitting for long periods at a desk, and keeping from running and screaming and playing games.