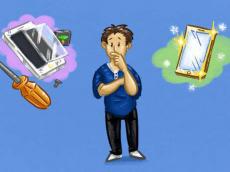 By Amina Nazarli
Is it hard for you to part with damaged items or you think that by repairing these things you can save money?
Recently, I was faced with this issue when I was left with a broken 5-year old computer in my hands. For normal operation I had to, at least, replace its hard disk and battery.
And then I wondered whether I should invest so much money in it, or set aside a small amount money for a completely new one, which will be more than 2-3 times faster and better in all respects?
Indeed, sometimes it is better to get something new instead of repairing your device, as you can get more up-to-date and functional tech. For instance, instead of repairing the screen of your mobile you can replace it with a phone with a better camera, or you can afford a laptop with larger memory and one that is able to hold a charge longer that your current one.
However, sometimes parting with old devices may be difficult for some people, especially for the elderly. For most of them, coping with modern technologies may be rather awkward, as they have become accustomed to older ones.
So is it worth repairing, or is it better to buy a new one? The dilemma may be difficult enough for such half-hearted people like me.
That's why before making a decision, be sure that if you are going to spend money on buying a new instead of what you had and loved. And you should make sure that the replacement device will be better for you that the one you have.
In fact such decisions depends on many factors including financial resources, when repairs may cost you more than half of the price of the new one. In this case it would be, of course, logical to avoid repairing it.

Depending on the age of the appliance, it might be better to change it, because sometimes their lack of efficiency might be affecting your electric bill. Modern appliances now use almost half of the energy of older models, so replacing them with a more energy-efficient model may be an ideal decision.
Also keep in mind that your time is important. While giving decisions, consider the repair time and how long you'll be without your device.
For example, if your device is out-of-date, then it may take you a lot of time and nerves, since parts are not easily found very often and sometimes you could wait for months to restore your stuff.
It is also worth talking about the quality of some modern appliances, which can be called "disposable" and instead of older appliances, they carry shorter lives.
If you notice, many appliance stores offer one to three year warranties, and this may show the lifetime of some goods. That's why if the item is more than half-way through its lifetime, then it's time to buy a new one.
A Forty-five-year-old housewife who agreed to share her views to AzerNews said that she is a supporter of replacing broken appliances. "I remember my mother had a vacuum cleaner that had served us for 25 years. Inside was a small detail which sometimes broke down, and then we could change it ourselves at home," she said, adding that "however, today most appliances have poor quality.

That's why in 90 percent cases, she recommends buying a new appliance. "It was easy to repair the household appliances released before 2000, because their schemes were clear and it was convenient to find their parts. However, modern appliances are very difficult to repair and after 2-3 times use they break down again," she said.
After all, new things always bring joy, that's why you must weigh your options, including the value of your time and how much the item means to you, and then make a carefully considered decision from there.