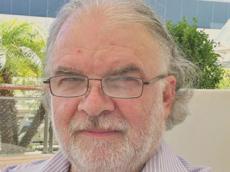 By Claude Salhani - Trend:

On being designated as prime minister of Iraq last week, Haidar al-Abadi was told by the speaker of Iraq's parliament, "The country is in your hands. May God help you."
Indeed, Haidar an al-Abadi, a 62-year old Shiite, has two insurmountable tasks ahead. First, he has to form a cabinet of national unity and second, defeat the world's largest, richest, most powerful and most ruthless terror organization that ever was. In a few words he is the man who is going to save Iraq. Or at least will try.
Al-Abadi was the spokesman for the Islamic Dawa Party. He was nominated for the role of prime minister of Iraq Aug. 11 by President Fuad Masum. Once sworn-in, he will officially replace the incumbent, Noori al-Malaki.
The new prime minister's job is not an easy one by any means. Forming a cabinet at a time when the country is divided geographically and mentally is going to be an arduous task. In order to succeed he will need to include Sunni and Kurds in his government.
The Sunni extremists of the Islamic State control large swaths of the country - including some of the oil wells, which the prime minister will have to recapture.
The new prime minister will have to convince the country's Sunnis and Kurds that he is serious about reconciliation. Many of the traditionally Sunni areas are now occupied by the extremists of the IS, or Islamic State.
Once that is achieved the new prime minister will have to structure the country's army, and reinstall moral and confidence in the Iraqi military who suffered a terrible defeat when they surrendered several cities in the north, including Mosul, to the IS.
The good news -- if one is to remain somewhat of an optimist -- is that al-Abadi has the support of Grand Ayatollah Ali al-Sistani, Iraq's most influential Shiite cleric, who earlier today voiced his support for the political transition.
Speaking at the Friday prayer meeting in the holy city of Najaf, the elderly Ayatollah said that this was a rare opportunity to resolve any outstanding security and political disputes.
Al-Sistani called on Iraqi lawmakers to stand up to the "historic responsibility" presented to them and support Iraqi Prime Minister-designate Haider Abadi in his efforts to form a new government."
But he will likely need all the help he can get, because just as God may be on the side of the new prime minister, the devil on the other hand, represented here by Islamist Jihadis will make his job of uniting Iraq a very difficult one. Al-Abadi inherits the political reins of a country deeply divided along sectarian lines.
Al-Abadi has the support of the United States and of Iran. He is considered well educated. A specialist on Iraqi affairs describes the new prime minister as "a moderate." He joined the Dawa Party when he was still a teenager. He left Iraq to study abroad after receiving a bachelor's degree in the mid 1970s. Like tens of thousands of fellow Iraqis he avoided coming back to his native country while Saddam was in power.
He starts off with a large advantage over Malaki, in his willingness to compromise.
He has an impressive biography: in 2005 he was put in charge of cleaning the northern Iraqi city of Tal Afar of al Qaeda elements. He succeeded in bringing together a number of Iraqi tribes. No doubt this is an experience from which he will be able to draw upon in his new position.
That city is today under the control of the Islamists.
Just last week he stressed a great need in Iraq for unity and compromise in the face of a dangerous coming. He said all groups have been weakened in the face of the enemy. He is opposed to the idea of dividing Iraq and looks favorably at turning to Iran for help, if need be.
With support from both United States and Iran, Al-Abadi should succeed in convincing an important part of the security forces in Baghdad to support him too.