U.S. Ambassador in Ankara James Jeffrey said on Tuesday that United States extended full support to the process between Turkey and Armenia.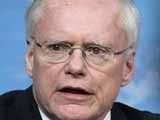 Turkish Parliamentary Foreign Affairs Commission chairman Murat Mercan and commission members met with Jeffrey in Ankara.
Speaking prior to the meeting, Mercan said the commission would inform the ambassador on its views about the bill regarding 1915 incidents, expected to be discussed in U.S. House of Representatives Foreign Affairs Committee on March 4.
Mercan said, "we will also discuss the recent developments regarding Turkey-U.S. relations."
Jeffrey said meetings between Turkey and the United States in a democratic system were very fruitful, noting that relations with Turkey were always at the forefront for the United States.
Asked if the bill would undermine the process which began with the protocols signed by Turkey and Armenia, Jeffrey said that the United States extended full support to the process.
/World Bulletin/