Davutoglu said that Turkey had never been anti-semitist throughout its history.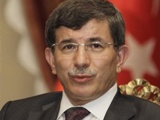 Turkish Foreign Minister Ahmet Davutoglu said that Turkey had never been anti-semitist throughout its history, and it would never be so.
The comment comes after an Israeli report targets Turkey's PM known for backing efforts to end Gaza sufferings and his criticism of Israel's deadly attacks on Palestinians.
Criticising Israel is not being anti-semitist, added Davutoglu who spoke to private NTV channel on Tuesday.
Turkey does not tolerate any type of anti-semitism and racism, Anadolu news agency quoted him as saying.
Noting that criticising Israel did not mean to be anti-semitist, Davutoglu said that the criticisms were made towards the stance in the region as well as the government and parties which were directing this stance.
He stressed that Turkey's priority was to open the path of peace process in the region.
Meanwhile, Turkish Foreign Ministry stated on Tuesday that Turkey would pursue its determination against anti-semitism, racism, xenophobia and discrimination with its belief in mutual understanding, tolerance, freedom, security and democracy.
The ministry said that UN General Assembly adopted a resolution in 2005 to commemorate victims of Jewish holocaust on January 27, recalling that this date coincided with foundation of Nazi extermination camp Auschwitz-Birkenau.
The ministry noted that it was a duty of both humanity and every UN-member state to curse holocaust --most incomparable and grave crime committed against humanity throughout the history--, to take measures for prevention of holocausts in the future, and to encourage efforts to educate new generations.
The Ministry also commemorated Turkish diplomats who risked their lives to save people from holocaust in various places of Europe during World War II.
/World Bulletin/