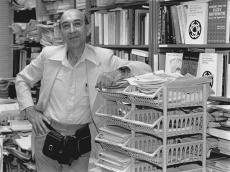 Laman Ismayilova


102 years have passed since the birthday of the Azerbaijani computer scientist and Professor Lotfi Zada, Azernews reports.
He is renowned for proposing fuzzy mathematics consisting of these fuzzy-related concepts like fuzzy sets, fuzzy logic, fuzzy algorithms, fuzzy information, etc.
The US National Aeronautics and Space Administration (NASA) studies, designs and implements control systems based on his theories.
Lotfi Zada submitted "Fuzzy Sets", a groundbreaking paper that introduced the world to his innovative mathematical framework called "fuzzy logic" on November 30, 1964.
In his theory of fuzzy sets, the scientist proposed using a membership function operating on the domain of all possible values. He proposed new operations for the calculus of logic and showed that fuzzy logic was a generalization of classical and Boolean logic.
His revolutionary theory of fuzzy logic is widely used in the production of photo and video cameras, washing machines, vacuum cleaners, and other technology.
The theory played a major role in the formation of modern information and communication systems.
Lotfi Zada passed away on September 6, 2017. The body of the deceased was brought from the US to Azerbaijan and interred in the First Alley of Honor.
In 2021, Azerbaijani President Ilham Aliyev signed a decree on holding the 100th anniversary of the outstanding scientist Lotfi Zada.
A symposium on artificial intelligence in digital governance was conducted virtually in 2021 in remembrance of the late world-renowned scientist Lotfi Zadeh.
The three-day conference was conducted by the E-GOV Development Center (EGDC) of the State Agency for Public Service and Social Innovations and featured 58 speakers from 22 nations.