Worries over potential disruptions to oil supplies have caused the price of crude to climb to its highest in over three months.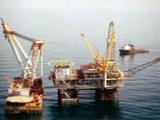 At one stage in the US it reached 65.50 dollars a barrel and Brent was above 64 dollars.
According to EuroNews, escalating violence in Nigeria and continued concerns over Iran's nuclear programme are behind that. Nigerian militants have carried out kidnappings and attacks on oil facilities in the West African nation's Niger Delta. Now they are threatening to use more aggressive tactics against oil workers and their families from the start of February. In the last week Nigeria's output has been cut by almost 10%.
Last year, with OPEC pumping at full throttle, oil production just outpaced demand as the US used less oil because of the effects of Hurricane's Katrina and Rita.
The International Energy Agency says this year a rebound in Chinese demand and stronger US consumption will drive up the amount the world needs.
The possibility of the Tehran government facing international sanctions, because of suspicions it is trying to build a nuclear bomb, has the markets worried.
Analysts say there is uncertainty about how long the Iranian crisis might last and how it can be defused.
Blanket sanctions, such as a complete oil embargo by the United Nations, are thought to be very unlikely, but Iran has said any crackdown could drive up prices and it has not ruled out using oil as leverage.