Negotiations on gas purchase between Russian and Azebraijan may start early next month.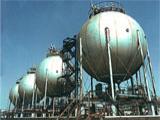 According to the information given to APA by Akif Hasanov, head of representation of Gasexport branch enterprise of Gasprom Company of Russia in Baku, the negotiating sides will discuss gas purchases for the next year.
"There is an agreement that the sides should meet to talk and discuss the issue. The price of the gas that Russia will provide to Azerbaijan will be determined after that. If the prices will be negotiated, of course, the amount of the gas to be purchased will be determined," said Mammad Mirzayev, head of the press service of State Oil Company of Azerbaijan Republic (SOCAR).
Mirzayev also said that the price of the gas Russia offers to Azerbaijan is unknown yet, after negotiations are conducted with Gasprom, there will be an exact information. If Azerbaijani side refuses to purchase the gas, then alternative variant might be chosen.
It should be noted that the president SOCAR Natig Aliyev few weeks ago said that if Russia increases the price for gas, gas purchases from this country may be suspended by Azerbaijan.
APA