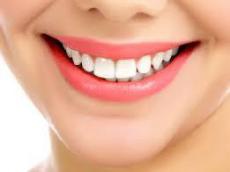 By Azernews
By Gunay Hasanova
One of the first things people notice about us are our teeth. No self-respecting celebrity would be seen without a sparkling set, and shining Hollywood smile!
And knowing how to care for our teeth isn't always easy. Conflicting advice can be confusing and lead to costly and painful mistakes.  So read our tips to make your teeth look and shine better than ever , while your gums will become healthier.
Dilute 5 drops of 100% tea tree oil in half a glass of water and rinse your mouth with it every day after brushing your teeth. You can see the results in just a couple of weeks. Clean your teeth additionally with a drop of oil once or twice a week, though not more often, for better effect.
 Take fresh strawberries, mash it with a spoon, mix it with the finest sea salt (you can grind it yourself in a coffee grinder), put on your toothbrush and lightly massaging the teeth for a few minutes. Then you rinse your mouth well. Spend not more than 1 time in 2 weeks to avoid damaging the enamel peeling. 
 Rinsing your mouth with coconut oil is a unique, old, remedy that people swear by to help whiten teeth.  Before you brush your teeth, scoop out a tablespoon or a little less (depending on the size of your mouth) of coconut oil. Leave if for 15-20 minutes and then rinse with water. Repeat this procedure 2-3 times a week.
 Mix the charcoal powder with water to get a consistency of thick cream. Carefully put on your teeth, leave for 2 minutes and thoroughly rinse. Then clean it with water. Repeat the procedure 1-2 times a week.
Banana peel has substances, which dissolve plaque and help to maintain perfect color. Carefully rub the inner and outer surfaces of the teeth with the white strips of the skin of the banana, leave for 5-7 minutes. Then, brush your teeth and rinse them. You can repeat this care as often as you desire.
 Lemon rinse is the best for the gradual whitening of  your teeth and freshening the mouth. Take lemon juice and a little bit ground salt, mix them well. Use after brushing your teeth. You can apply it 2-3 times a week.
 Rub some fresh aloe vera juice into your teeth, massage them with a toothbrush, and rinse thoroughly. You can do this after each brushing, and after a couple of weeks your smile will be bright and sparkling white.