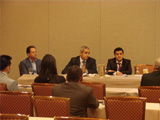 The Azerbaijani Consulate General in Los Angeles recently took part in the National Export Council conference and exhibition in the U.S. state of Nevada.
At the conference, Vice-Consul Ramil Gurbanov provided detailed information about the economic reforms carried out in Azerbaijan since the restoration of independence, achievements in trade and economic cooperation, investments in the country's non-oil sector and import capacity of various fields, the Consulate General said.
The Consulate General's staff member Farid Musayev told delegates about the benefits of investing in Azerbaijan and its capacity to import products, which was then followed by a question and answer session.
Literature containing detailed information about Azerbaijan's economic opportunities and other information was distributed throughout the exhibition.
The Consulate General's staff also took part in the conference which was attended by representatives of leading U.S. companies, government officials and representatives of other countries. A discussion took place about the possibility of establishing trade relations with Azerbaijani companies.
/
Trend
/