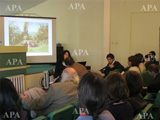 A couple days ago, Georgia's capital city hosted the first international symposium titled "Caucasus: conflict, culture" at the Tbilisi State University. The conference brings together more than 40 scientists from different countries as well as students from Azerbaijani, Georgian, Armenian and German universities and representatives of international organizations.
Students of the South Caucasus universities actively participated in the dialogues held within the event. They shared opinions on issues such as Nagorno Karabakh, Abkhazia and the South Ossetia conflicts.
Leading scientific researcher of the Archeology and Ethnography Institute under the Azerbaijani Academy of Sciences, PhD in history Parvin Ahanchi noted that the symposium aims to search solutions of the South Caucasus conflicts and prevent such conflicts in the future.
"I am from Shusha. As a live witness of the conflict, I gave a lecture titled "Witnesses and Memories". Participants listened to my speech with great interest. My aim was to convey the motives of the Karabakh conflict and consequences that were embedded on memories".
The symposium will run till November 5.
/
APA
/