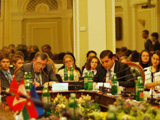 An international forum on the topic "UN Youth Model" was held in Ukraine upon the initiative of the Verkhovna Rada, the Youth Assembly and the Union of Azerbaijani Youth in Ukraine.
The forum was attended by about 150 youth organizations from 15 countries, Union of Azerbaijani Youth in Ukraine told Trend on Friday.
The event was addressed by Chairman of the European Integration Committee of the Verkhovna Rada Borys Tarasiuk, Chairman of the Committee on Legislation and Work with Law Enforcement Agencies Viktor Shvets and chairperson of the All-Ukrainian Youth Assembly Yuna Shikhaliyeva.
In their speeches, they spoke about the exclusive importance of international forums held within the UN Youth Model to safeguard peace and security, human rights and freedoms.
The speakers also congratulated the Union of Azerbaijani Youth in Ukraine on Azerbaijan's election as a non-permanent UNSC member.
"I regard this success as a result of the policy of Azerbaijan's assured integration into Euro-Atlantic space and international community pursued by the Azerbaijani state," Tarasiuk said.
Chairman of the Union of Azerbaijani Youth in Ukraine Anar Tahirov drew the event participants' attention to the Nagorno-Karabakh problem. He said non-fulfillment of four UN resolutions concerning Armenia's occupation policy against Azerbaijan is historical injustice.
"How long will the world youth be indifferent to the ongoing developments in the international arena," Tahirov said and encouraged young people attending this forum, to show the will to resolve the Karabakh problem.
/
Trend
/