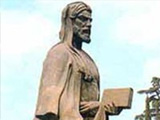 Within the framework of the 20th anniversary of the restoration of Azerbaijan's independence, groundbreaking ceremony of the monument of the great Azerbaijani poet Nizami Gandjavi was held in Acapulco, Mexico.
Azerbaijani embassy in the United Mexican States said that Ambassador Ilgar Mukhtarov, Minister of Tourism Development of the state of Guerrero Juan Salgado, Minister of Social Development of Acapulco government Oscar Rangel Miravete, famous Mexican writer Manu Donvier, representatives of the embassy and Acapulco residents attended the event.
Officials of the state of Guerrero addressed the event. They expressed their confidence that the monument to the great Azerbaijani poet and philosopher Nizami Gandjavi in one of the most famous places of Acapulco will become one of the future symbols of the city. This initiative of the Azerbaijani embassy with the view of improving cultural relations was highly appreciated by the state of Guerrero. It was noted that "Azerbaijan" street will be unveiled in Acapulco soon.
Speaking about the activity of Nizami Gandjavi, Manu Donvier said the poet's works contributed not only to Azerbaijani literature, but also to the world literature and philosophy.
Ambassador Ilgar Mukhtarov expressed gratitude on behalf of the Azerbaijani government to the government of the state of Guerrero and Acapulco, Acapulco residents for attention to the activity of the great poet and philosopher Nizami Gandjavi.
Ambassador and officials of Guerrero and Acapulco attended the groundbreaking ceremony of the monument to Nizami Gandjavi.
The Azerbaijani dancers, who came to participate in the La Nao festival in Mexico, also attended the ceremony.
/
APA
/