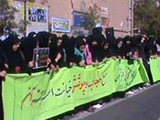 A protest action took place outside the Consulate General of the Republic of Azerbaijan in Tabriz on Wednesday.
Pupils of the secondary schools, students and professors of the universities of Tabriz participated in the action. They expressed protest against the arrest of the members of the Azerbaijan Islamic Party (AIP) and headscarf ban in the secondary schools.
The protesters adopted resolution expressing Tabriz residents' support of their brothers and sisters in the Republic of Azerbaijan, who are on the way of revival of the Islamic values.
/
APA
/