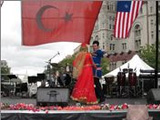 Despite the weather conditions, thousands of Turks, Azerbaijanis and other Turkish culture lovers, gathered in the centre of Washington DC, two blocks away from the White House on October 2nd to celebrate the annual Turkish Festival.
The 9th festival gathered more than 25 thousand people who enjoyed the Turkish and Azeri dances, entertainment, food, sweets, and art performances, such as delicious cuisine, tradition of coffee fortune reading, and bustling Bazaar and tourism exhibitions.
The Festival took visitors on a journey through two continents and thousands of years of rich history. Festival attendees were able to leave their worries behind and feel as if they have traveled across oceans and through time.
Like in the previous five years, Azeri Diaspora had a table at the annual Festival. Azerbaijani culture and cuisine were also presented for the visitors along with Uighur, Uzbek and other cultures.
This year Washington DC and Ankara cities are signed a sister city agreement during the festival.
Ankara Metropolitan Mayor Melih Gokcek and Washington Mayor Vincent Gray signed the protocol in Washington DC municipality building with participation of Turkish Ambassador to the US Namik Tan.
"Washington would be added among 42 sister cities of Ankara to develop relations between countries as well as cities", said Mayor Melih Gokcek.
/
APA
/
Click to enlarge: