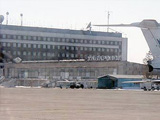 Russian law-enforcement bodies, which received information about explosive device in the bag of Azerbaijani citizen in Khabarovsk airport, postponed 5 flights. 
The incident occurred during checking in the monitor of the intro-scope after the detection of thing looked like an explosive device in the handle of bag of Azerbaijani man, who was heading to Moscow.
Answering the question about this thing, the Azerbaijani said that there was a bomb in the bag. Our compatriot said the bomb was given to him by police officers and added that the purpose of it was to check the watchfulness of the airport's security officers.
The corresponding organizations were immediately informed, the majority of passengers were evacuated. The mine detectors found ramrod and more than 2kg of small-shot in his bag. The investigation is underway.
/
APA
/