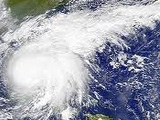 Members of the Azerbaijani Diaspora in the United States did not get hurt and didn't experience any major damages during the Hurricane Irene. Hurricane Irene which was downgraded from 3 to 2, and later even to 1, heat almost all of the US East Coast – South and North Carolina, Virginia, Washington DC, Maryland, Delaware, New-York, New-Jersey, etc.
State of emergency was declared in most of the hit areas, and 9 people in 5 states fell victims to the hurricane. Over one million people lost electricity on the East Coast, primarily, in Virginia.
American Azerbaijanis told about what difficulties they experienced and they coped with them.
"The TV and radio stations were telling people to buy bottled water, flashlights, candles, non-perishable foods and batteries, to prepare themselves for the worst. So did I, I went to the grocery-store on 25th and 26th of August, and the counters were almost empty! People were buying everything, like it was the end of the world", - Sarvat Jalilov from Columbia, Maryland, said.
"The hurricane didn't affect our working schedule, as its most severe days were on the weekend, and no one worked anyways. The office security manager has issued a list of precaution tips for our company, we knew where to call if we had issues and what to do if we are to be evacuated", - Emil Asadzada of Alexandria, Virginia, said.
"Our house is on a lower line and near the water, so we were told by the authorities to get ready for evacuation, and we spent August 26-27 in evacuation, but some of my friends from Brooklyn didn't bother to leave their houses", Sevinj Huseinova from Quince, NY, said.
"We lost power at around 12pm on Saturday and it didn't come back until Sunday evening, but we had candles and flashlights, so we didn't freak-out, it was fine, we knew that a lot of people share our situation", said Adil Nazim from New Jersey.
"I woke up in the morning and saw lots of tree branches that fell on my car and in my yard over the night of August 27-28. I need to get my car fixed now, but my insurance doesn't cover this kind of things, will have to pay from my pocket, which doesn't make me happy at all. But otherwise everyone is safe, I called some Azeri friends, no one seems to experience any major damage, thank God!" said Elvira Ramazanova from North Carolina.
/
APA
/