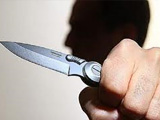 Kiev police detained two young persons (19 and 20) suspected in hijacking a car. The Azerbaijani boys were having a rest in a night club. Leaving the club, they called taxi and began to hang around the city.
After a while, the taxi driver asked them if they had money to pay out. They said "no". The driver asked them to leave the car but they took a knife out and began to threaten him, segodnya.ua reports.
Reportedly, it was the first day he began to work as an official taxi driver. "The driver managed to get out of the car and run away. The boys noticed the key left in the ignition and decided to hijack "Chevrolet".
They run smack into a bar after driving a while and escaped from the scene right away. They were detained the next day.
 One of them is a student; the other one is neither educated nor employed. For this nigh "adventure", they are going to remain in jail up to 12 years", Holoseievski police department Chief Alexander Tereshuk said.
/Vesti.az/