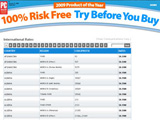 Magic Jack, America's popular phone equipment firm which enables its users to make internet phone calls to almost any country throughout the world, angered the US Azerbaijanis by listing Nagorno-Karabakh region of Azerbaijan under Armenia in its International Rates.
On its webpage the company indicated Nagorno-Karabakh under the code/prefix number 37447, which costs $0.33 per minute for the customers (https://web05.magicjack.com/my/international/)
The Azeri Diaspora has already started a campaign by sending the letters to the Magic Jack, calling it to correct the gross mistake as soon as possible.
"We were stunned and really disappointed to see N.Karabakh region of Azerbaijan to be listed under Armenia", says the letter submitted by Azeri Diaspora member Nigar Gasimova to the firm.
"Nagorno-Karabakh region has been and is recognized as de jure part of Azerbaijan by four UN Security Council resolutions, several UN GA resolutions, as well as the State Department", note the Diaspora members.
According to them, Magic Jack sends a wrong signal to the world and confuses visitors and existing customers. "Nagorno-Karabakh has been recognized even by international community such as UN, OSCE, PACE and NATO to be an unalienable part of Azerbaijan", reads the letters.
/
APA
/