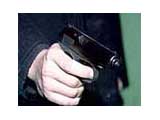 An incident involving the use of arms took place in a café in Moscow.
According to APA, unknown man shot two Azerbaijanis outside the café with automatic weapon.
One of the Azerbaijanis wounded in head and breast was killed at the site. Another man was wounded in waist and hospitalized. The killer escaped from the site in VAZ 2109. The fact is under the investigation.
/APA/