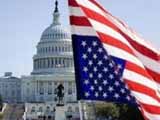 Board Members of the Pax Turcica Institute , Azerbaijan Society of America and Azerbaijani-American welcome the recent decision by the House Appropriations Subcommittee on State, Foreign Operations and Related Programs to exclude the wording of direct US assistance to the Armenian-occupied Nagorno-Karabakh from the FY 2012 budget appropriations for the South Caucasus.
The organizations said the community members actively participated in the relevant Pax Turcica advocacy campaign, "in achieving this major milestone for the first time in 2011".
The US Congress has been allocating funds to address humanitarian needs of the victims of Armenian-Azerbaijani Nagorno-Karabakh conflict since 1992. In 2005, under pressure from the Armenian-American interest groups, the wording of the State, Foreign Operations and Related Programs Appropriations bills was revised to provide U.S. funds only to the Armenian community of Nagorno-Karabakh, while over 600,000 Azerbaijanis expelled from the region in the course of the conflict remained deprived of assistance.
"In the absence of a political settlement to the conflict, the ethnicity-driven U.S. assistance to one conflict party not only undermined the original Congressional intent, but also questioned the U.S. role as an impartial mediator", said the Diasporas organizations' statement.
Despite the annual Congressional testimonies and campaigns by Azerbaijani-American organizations opposing the direct US aid to Nagorno-Karabakh, in past 6 years, Armenian-American lobby succeeded in increasing the allocation amount from $3 million to $8 million. Since February 2011, over 6,000 letters sent via the newly-launched Pax Turcica CapWiz system to the Members of Congress highlighted the fact that the US aid to Nagorno-Karabakh unfairly excluded the Azerbaijani victims of the conflict and that the annual allocation exponentially exceeded the programmatic capacity on the ground.
"Its noteworthy that these PTI arguments became compelling for many Americans of non-Turkic heritage to also join in expressing their concern about the waste of US taxpayer money for satisfying the whim of one ethnic special interest group in Congress", say the Diaspora members.
"Ahead of the upcoming August 3rd vote on the FY 2012 foreign aid bill in the full House Appropriations Committee, we once more call upon all Azerbaijani- and Turkic-Americans to build up on our initial success by sending the following PTI Capwiz action letter", they call.
/
APA
/