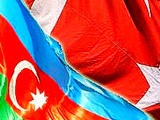 American Azerbaijanis and Turks have yet another challenge to face this summer – another US Congress member tries to pursue pro-Armenian issues in the House of Representatives.
Congressman Robert Dold of the 10th District of Illinois has publicly stressed his commitment to US affirmation of the 1915 events in Turkey as "Armenian Genocide", causing a major resentment to the Azeri and Turkish Diasporas.
"This is unacceptable, that at a moment when the American nation is in crisis and seeks ways to deal with the massive debt on its shoulders, some members of the Congress use speculations and make unverified statements per se", said Jabbar Valiyev, an Azerbaijani Diaspora member, calling on all Turks and Azeris to send letters of concern both to the Congress and to the Congressman Dold's office.
According to him, both Turks and Azeris in America will hold numerous actions and will start sending mails and electronic messages to government officials, newspapers and NGO, calling to peruse the facts of the 1915 events and only then make decisions.
/
APA
/