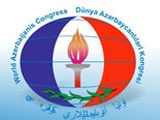 1272 delegates were elected for the 3rd Congress of the World Azerbaijanis to be held in Baku on July 5. Press service of the State Committee for Work with Diaspora (SCWD) told APA that 579 delegates and 211 guests from 42 countries will attend the Congress. Russia will be represented by 155 delegates, Turkey – 101, Ukraine – 49, Germany - 43, Georgia – 41, USA- 28, Sweden – 23, the Netherlands – 21, Israel – 17, Uzbekistan – 13, France – 12, UK – 11, Canada – 10.
677 delegates from the state and government organizations, non-governmental organizations, cultural, educational and other creative institutions and political parties and 405 guests will represent all regions of Azerbaijan at the Congress. 29 MPs from 13 countries are planning to join the 3rd Congress of the World Azerbaijanis.
Chairman of the Kyrgyzstan's parliament Akhmatbek Keldibekov, Georgian State Minister for Diaspora Affairs Papuna Davitaya, Head of the Ministry for Turkish People living abroad and relative communities under the Cabinet of Ministers of Turkey Kemal Yurtnac, Chairman of Gagauz community of Moldova Mikhail Formuzal, Head of the Russian federal department for compatriots living abroad and foreign cooperation general Vladislav Shvetsov, Adviser to the Turkish Prime Minister Sadettin Kilic, Governor of Kvemo-Kartley region of Georgia David Kirkitadze, Head of Kocaeli Municipality of Turkey Ibrahim Karaosmanoglu, Justice Minister of Dagestan Republic of Russia Azadi Rahimov are expected to be among the guests.
The representatives of the Azerbaijani Diaspora will meet with the chiefs of state and government agencies of Azerbaijan on July 6. The State Committee for Work with Diaspora published several books for the third Congress. They are "State care for Azerbaijani Diaspora (e-book)", "Report to the Congress", "Memory for the Azerbaijanis living abroad", "Solidarity Charter of the World Azerbaijanis", "We are Azerbaijanis", the catalogue about the life and creative activity of the Azerbaijani artists living abroad.
Report will be made in the third Congress of the World Azerbaijanis about the work done after the previous congress, ways of strengthening Azerbaijani Diaspora will be discussed, relevant decisions will be made. "The resolution of the third Congress of the World Azerbaijanis", "Addressing President of Azerbaijan Republic, Mr. Ilham Aliyev", "Addressing the World Azerbaijanis", "Addressing international organizations, parliaments of foreign countries, heads of states and governments regarding Armenia-Azerbaijan, Nagorno Karabakh conflict" will be adopted during the congress.
The first Congress of the World Azerbaijanis was held in Baku on November 9-10, 2001, the second Congress on March 16, 2006.
/
APA
/