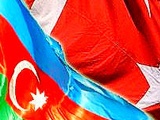 Turkish and Azerbaijani Diasporas in the United States have issued a statement condemning the usage of the term "Armenian genocide" with regards to the 1915 events in the Ottoman Empire in the state of Massachusetts's schools history books, the Diaspora reported.
The dispute whether there was genocide or not is a matter that still must be investigated by the historians and it can't be interpreted as a real fact in schools history book and impose such an impression on the young students, the statement says.
The Diasporas also sent a letter to the Joint Committee on Education of the Massachusetts General Court on on behalf of the Assembly of Turkish American Associations (ATAA), which represents over 500,000 Turkish Americans and 300,000 Turkic Americans nationwide urging to amend Bill H01064 not to include in any case that has not been defined as genocide by the government of the United States or by the United Nations.
"Whether the Ottoman Armenian tragedy constitutes a case of genocide is a genuine historic controversy. Experts on Ottoman history do not consider the Armenian case genocide", say the Turkish and Azeri Diasporas.
The Diasporas call on their members and friends to support them and send letters as well.
/
APA
/