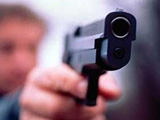 A manager of a café located on Festival Street in Moscow, shot a visitor in the head with a traumatic weapon.
"As a result of a conflict, 44-year-old Moscow resident of Azerbaijani nationality took his traumatic weapon and shot the visitor in the head in a close distance", interfax.ru reported.
The 36-year-old Moscow citizen with penetrating wound was hospitalized and is kept under intensive care.
According to the café workers, the manager was self-defending himself from the aggressive visitor but no sign of injury was found in his body.
Meanwhile, the witnesses said that the manager opened fire without any reason. An issue on launching a criminal case remains under consideration.
/Vesti.az/