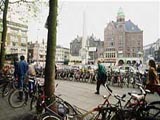 At the initiative of the "The Union for a united, undivided and democratic in Azerbaijan" society, which is headed by an Azeri, Irada Uluhanly, a week of Azerbaijani culture was hosted in the town of Masstricht (Netherlands), from 6 to 10 of June.
According to the report of the society, the topic of "Azerbaijan" was included in the weekly training program of the students. Students got acquainted with the history, literature, music, national dress, cuisine of Azerbaijan, which were showcased during the event. 
School children got a chance to get a better look through the history of Azerbaijan, in particular, the ancient history of our country, the Karabakh problem.
The event was attended by members of the Azerbaijani Embassy in the Netherlands, representatives of the Azerbaijani-Dutch friendship, journalists and other guests. Below is a small photo-report from the event. Take a look.
/Day.Az/
Click to enlarge: